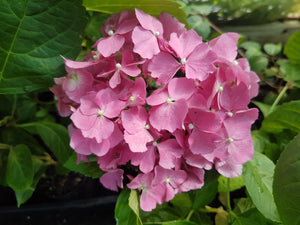 President R Touchard Hydrangea macrophylla (Pink/Purple) ADVANCED SIZE
Regular price $10.50 $12.50 Sale
Hydrangea macrophylla 'President R Touchard' in Advanced 75mm diameter pot
Due to the onset of unususlly wet Summer conditions, the leaves of the President R Touchard hydrangea have developed some seasonal blemishes. This is normal for wet conditions when hydrangea leaves turn off-color due to their deciduous growth habit. Some customers who have never grown hydrangeas become alarmed and report various spots and discolorations they observe on the foliage. I reassure customers that this is normal. 
Noted for its purple mophead flower heads.
Hydrangeas vary in color depending on the pH of the soil.
Height 1-2m
Width 1-1.5m
Prefers a shaded position and moist soil.
Flowers from Summer till Autumn.
75mm pot