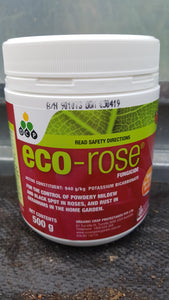 Eco-rose Fungicide 500g (for use on Hydrangeas)
Regular price $0.00 $18.35 Sale
Eco-rose Fungicide
We use this on our Hydrangeas for the control of powdery mildew, black spot other fungal outbreaks. We apply it with a regular watering can, however you can use a spray bottle if you prefer. Make sure you pour it all over the leaves.
Despite the name of the product, it is not only for use on roses. We use it successfully on both hydrangeas and fuchsias.
Hydrangeas are particularly susceptible to attack from fungal spores- these are in the air, and when the leaves are wet for prolongued periods, they allow for the proliferation of fungi. Fungal attack is common during winter when evaporation from the leaf surface can be slow. It is also common as a result of humidity during warm weather.
Mix with water according to directuons on the packaging. Apply every 7-10 days as a pour on treatment. 
We always wear personal protective gear including glasses, mask, protective clothing and gloves when using fungicides. This is an Australian Organic Registered Garden Product.
Package weight: 500g 
Active Ingredient: potassium bicarbonate 
Makes ip to 160L of solution.
Manufacturer: Organic Crop Protectants