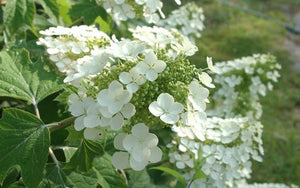 Oak Leaf 'Pee Wee' Hydrangea quercifolia (White) Pick up only. Special listing for local customers.
Regular price $14.00 Sale
Hydrangea quercifolia 'Pee Wee' Oak-Leaf 
14cm pots
Orders can be picked up from the nursery by appointment only 
These cannot be posted. Customers who purchase these and select postage, this product will be cancelled from your order and a full refund will be sent. The rest of the order will be shipped as per normal protocol.
Noted for its prolific blooms composed of small white florets that form  masses of large flower heads measuring up to 30cm in diameter. They lose their leaves over winter.
White hydrangeas are generally stable despite changes on soil pH
Height 1m
Width 1m
Part shade, but can tolerate more sun than the macrophyllas. Requries soil to be kept moist.
Deciduous shrub that loses all of its leaves by Winter. They regrow in Spring.
Flowering from Spring to Summer